November 2016 News
Existing Home Sales Report
According to the National Association of Realtors® (NAR), sales of existing homes made a strong comeback in September pushed by first-time buyer transactions which hit 34% of sales. This level hasn't happened in over four years. Closings last month increased in all major regions, while distressed sales fell to a new low of 4% of the market.
Total existing-home sales (transactions for single-family homes, townhomes, condominiums and co-ops) grew 3.2% to a seasonally adjusted annual rate of 5.47 million in September from a downwardly revised 5.30 million in August. Sales now sit at the highest pace since June (5.57 million), 0.6% higher than one year ago (5.44 million).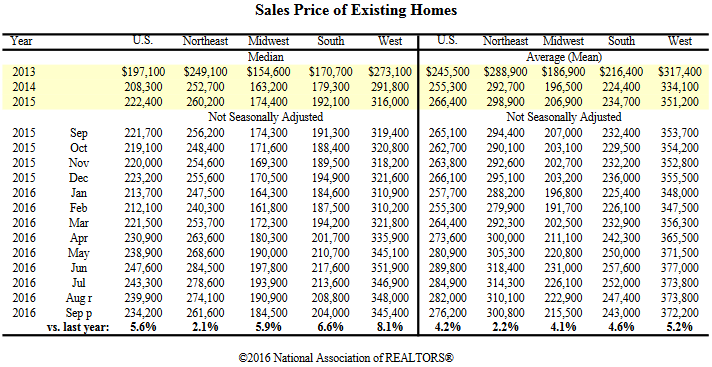 NAR's chief economist, Lawrence Yun, said the two-month existing home sales slump pivoted solidly in September. "The home search over the past several months for a lot of prospective buyers, and especially for first-time buyers, took longer than usual because of the competition for the minimal amount of homes for sale," Yun said. "Most families and move-up buyers look to close before the new school year starts. Their diminishing presence from the market towards the end of summer created more opportunities for aspiring first-time homeowners to buy last month."
Housing Data Takeaways
The median existing home price (all housing types) in September was $234,200, a rise of 5.6% from September 2015 ($221,700). September's price bump is the 55th consecutive month featuring year-over-year gains.
Nationally, total housing inventory at the end of September grew 1.5% to 2.04 million existing homes available for sale, but this is 6.8% lower than a year ago (2.19 million) and has now dropped year-over-year for 16 consecutive months.

Lawrence Yun remarked, "Inventory has been extremely tight all year and is unlikely to improve now that the seasonal decline in listings is about to kick in...Unfortunately, there won't be much relief from new home construction, which continues to be grossly inadequate in relation to demand."

First-time buyers nationally drove 34% of sales in September equaling the highest proportion since July 2012; this is up from 31% in August. First-time buyers comprised 30% of sales across 2015.

Freddie Mac data shows the average commitment rate for a 30-year, conventional, fixed-rate mortgage rose slightly in September (for the first time since March), to 3.46% from 3.44% in August. The average commitment rate across 2015 was 3.85%.
The Best Mortgage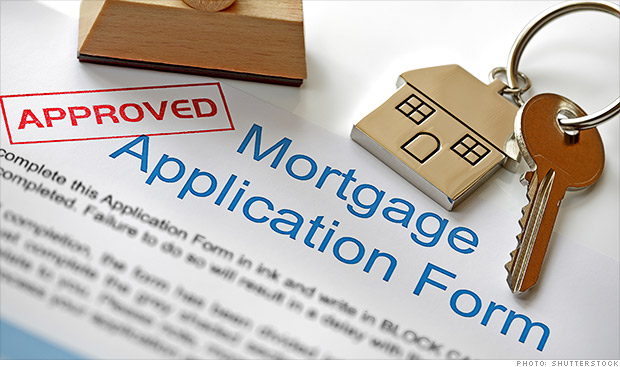 Shopping around for a home loan or mortgage will help you to get the best financing deal. A mortgage - whether it's a home purchase, a refinancing, or a home equity loan - is a product, just like a car, so the price and terms may be negotiable. You'll want to compare all the costs involved in obtaining a mortgage. Shopping, comparing, and negotiating may save you thousands of dollars.
The US Department of Housing and Urban Development offers a free brochure to help guide you through this process. Download a free copy today, and please contact us for a list of preferred mortgage professionals in our area.
Get your Home Ready to Sell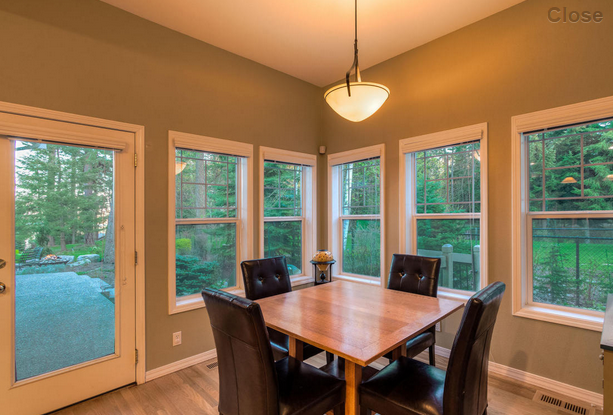 When preparing your home for sale, a number of simple cosmetic changes often provide the biggest return on investment. Here are three tips to upgrade your house without breaking the bank:
Bring in the light. The right light creates the right mood. Adding lights to dark rooms can make your home feel warm and inviting. Bring outdoor light inside by opening curtains and installing economical sun tubes.

Create Space. Many of today's buyers are looking for open rooms. Consider removing unwanted walls to make your home feel more spacious. Buyers will often pay a premium to get a bit of extra room.

Replace Flooring. Get rid of that old carpet in the den and replace it with today's newer hardwoods and laminates. You don't have to spend a lot to make a big impression!
These simple tips can help you sell your home and take advantage of our today's market. Please contact us if you have any questions about selling your home. We are here to help!